DebConf 11 will take place from July 24 to 30, 2011, in the city of Banja Luka, Republika Srpska, Bosnia and Herzegovina.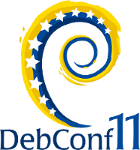 The final calendar of the event is:
July 17, 2011: Setup day (only for people doing initial setup)
July 18-23, 2011: DebCamp, the yearly developer work sessions.
July 23, 2011: Arrival Day for DebConf11
July 24-30, 2011: DebConf11
July 31, 2011: Departure/cleanup day
The call for papers and registration dates are still to be decided.
More information at the DebConf 11 website.